A

wards, Accolades & Press Coverage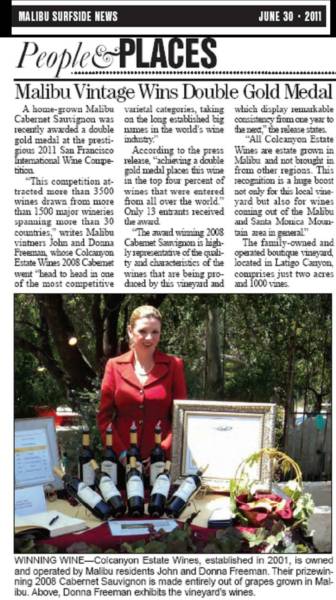 We are exceptionally proud to be an emerging boutique vineyard that creates bold, quality, fine wine. Our wine has been recognized in top competitions and won multiple awards; an award for EVERY commercial wine competition we have entered. These recognitions underscore the quality of the wines our vineyard and brand produces. We take great pride in showcasing the following wines and their awards:
The Colcanyon Estate Wines' 2008 Cabernet Sauvignon was just awarded a DOUBLE GOLD medal at the San Francisco International Wine Competition – only one of 13 such awards made from over 3500 entries. If there was ever a definition of "fine wine" then this is it !!
Our 2008' Cabernet Sauvignon was also awarded earlier this year within the 2011 Consumer Wine Awards at Lodi.
Both our 2007' Cabernet Sauvignon and 2008' Merlot were recognized as exceptional in the 2011 San Francisco Chronicle Wine Competition.
Our 2007 Merlot is one of our most awarded wines, winning recognition in every wine competition entered in 2010:
• 2010 San Francisco International Wine Competition
• 2010 California State Fair
• 2010 Orange County Fair
For a great review of the emerging wine production of the Malibu & Santa Monica Mountains area, including coverage of Colcanyon Estate Wines, check out the latest edition of the Malibu Times Magazine ….. page 37 ….. sopdigitaledition.com/malibumag
For great coverage of Colcanyon Estate Wines, check these out………..
http://laurelk.com/colcanyon-winery-circumstantial-vintners/
http://localemagazine.com/raise-a-glass-to-outstanding-malibu-wineries/